ALL-INCLUSIVE RENTAL
Rent RIEHLE equipment instead of buying!
The food industry is booming and there is more and more consumer demand for individual snacks. Respond now and get the latest generation of a WP RIEHLE lye application machine! Completely risk-free and without complex investment planning!

Are you already planning to buy a new lye application system or deep fryer, but are still trying to figure out the financing? Is your system old and needs repair? Is your production reaching capacity limit, but you lack the necessary capital for additional investment?
Why pay for everything at once?
The WP RIEHLE all-inclusive rental offers carefree use of equipment for many years through a monthly fixed rent, including service (including travel expenses), spare and wear parts.
No repair costs - Where else will you find that?
Die WP RIEHLE All-Inklusiv-Miete beinhaltet die Garantie während der gesamten Mietdauer. So entstehen keinerlei Kosten bei der Behebung fälliger Reparaturen am Gerät. Bei irreparablen Schäden wird das Gerät selbstverständlich ausgetauscht.
No down payment. Fixed monthly lease payment.
The calculation could not be simpler:
Fixed assets are not affected
Optional direct payment from the cash flow of the income
No burden on the credit line at your main bank
Always on the cutting edge of technology
If you have spent a carefree 5 years with your WP RIEHLE rental device, we will replace it with a new, equivalent device. This ensures that you always have the latest WP RIEHLE model.Also: No additional costs for disposal and removal of the old device, because even those are already included in the rental price.
Technical production safety by subscription
Through regular maintenance by our WP RIEHLE quality service, we provide maximum protection against breakdowns and thus ensure optimum production reliability even in times of heavy capacity utilisation.
Please note: The WP RIEHLE all-inclusive rental package is only valid in and for Germany.
International calls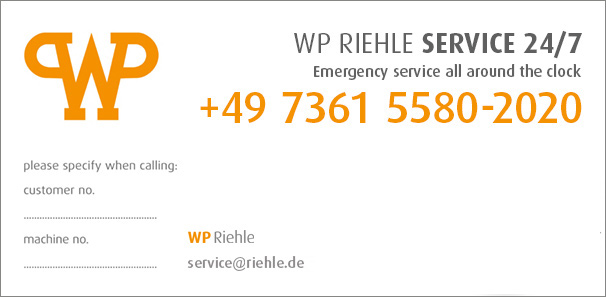 For more information please contact our customer service department.
Talk to us about individual solutions for service assignments, spare parts orders and other advantages in the event of a breakdown.